Friends of the Tyngsborough Public Library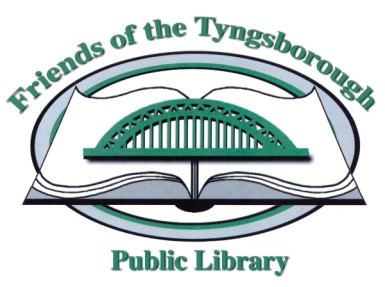 ** With March being membership month, you should have received your application in the mail. Thank you to all who have returned your application and dues. If you have not joined or renewed your membership yet, you can do this online and pay your dues through Pay Pal at https://www.tynglib.org/about/friends-of-the-library-application/. Otherwise, stop by the Library for an application.
** The Friends are currently struggling to maintain enough active members for a viable organization. We are asking all of you to do more by giving your time and talent to this nonprofit organization in support of the Library. During the annual meeting of the membership in March, Lucy Hamnett was again elected as Treasurer. She has been performing these duties for many years and is ready to train another energetic member to step into this role. The Friends are in need of members to fill all the offices (President, Vice-President, Secretary and Treasurer). Currently, we are not able to complete all that we would like to do without strong leadership and enough members to participate. It takes commitment but not a lot of time to be an officer, so please volunteer. We will be glad to provide the information and training needed to keep the organization running.
** In this period of transition, we have decided not to have a Spring Used Book Sale due to the lack of volunteers. It is very disappointing to be unable to do the fundraising that it takes to provide the Library with funds for programs and items not provided for in their budget such as furniture, arts and crafts, summer reading, and museum passes. The Library is a valuable asset to our town, and without your time and effort, we will not be able to continue to function. We are slowing down our efforts with hopes that others will step in to continue this nonprofit organization. With more volunteers, the duties can be more easily distributed. If you can help, please contact us at tynglibfriends@gmail.com or call the Library at (978) 649-7361.
** Upcoming meetings are on April 3, May 1 and June 5, 6:30-8pm in the Library. Show your support by attending and offering to volunteer.
** Join us for a reception to introduce "Books and Blooms," a display of beautiful bouquets inspired by classic children's books, with funding from the Friends of the Tyngsborough Public Library. Bouquets will be on display at the Library from the time of the reception until Thursday, April 13th.
** The Friends funds are sponsoring the new Tyngsboro Teen Advisory Board (TyngTAB). The Board is open to teens in 6th grade and up. Learn how to work as part of a group, manage a budget, schedule events, and build community. Check the Library's online calendar of events for dates and registration.
** Contact us at tynglibfriends@gmail.com or call the Library at (978) 649-7361. Check us out on Facebook at https://www.facebook.com/FOTPL/. Let us know that you can help!